There aren't a lot of truly elaborate things I really love. I tend to like simple things, basics, clean lines.
Even in my jewelry, I like things to be simple. I'd much rather have a pair of pearl studs over a pair of glittery chandelier earrings. A simple silver I.D. bracelet over a diamond tennis bracelet, or going completely unadorned to being garish.
Glitter doesn't rule my life. Normally I prefer a soft sheen.
Unless we're talking about tiaras!
A tiara is basically as elaborate as it gets. It is the polar opposite of everyday wear. It takes a
seriously
special occasion to break out a tiara, and they're
seriously
pricey, so they're also very rare.
Opulent, over the top, and completely unnecessary, there is a special place in my heart for tiaras.
This week I've found a bunch on Etsy for my Favorites Friday. Maybe in the future I'll do a post on my favorite royal tiaras, but for now here's ones you could actually own yourself. Watch out though, these are mostly quite expensive. Don't fall in love only to be heartbroken by the price!
I'm starting with my absolute favorite. I cannot tell you how much I wish I'd found this when I was shopping for my wedding. This tiara is absolutely my idea of perfection.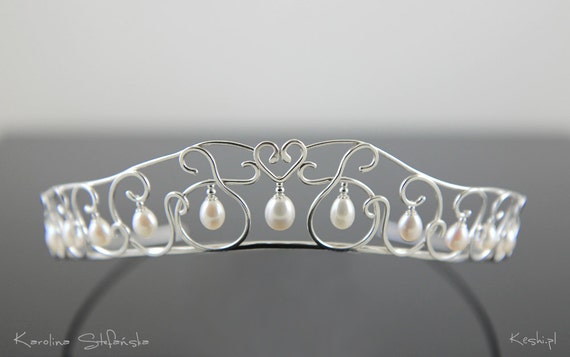 Isn't it gorgeous!?!!